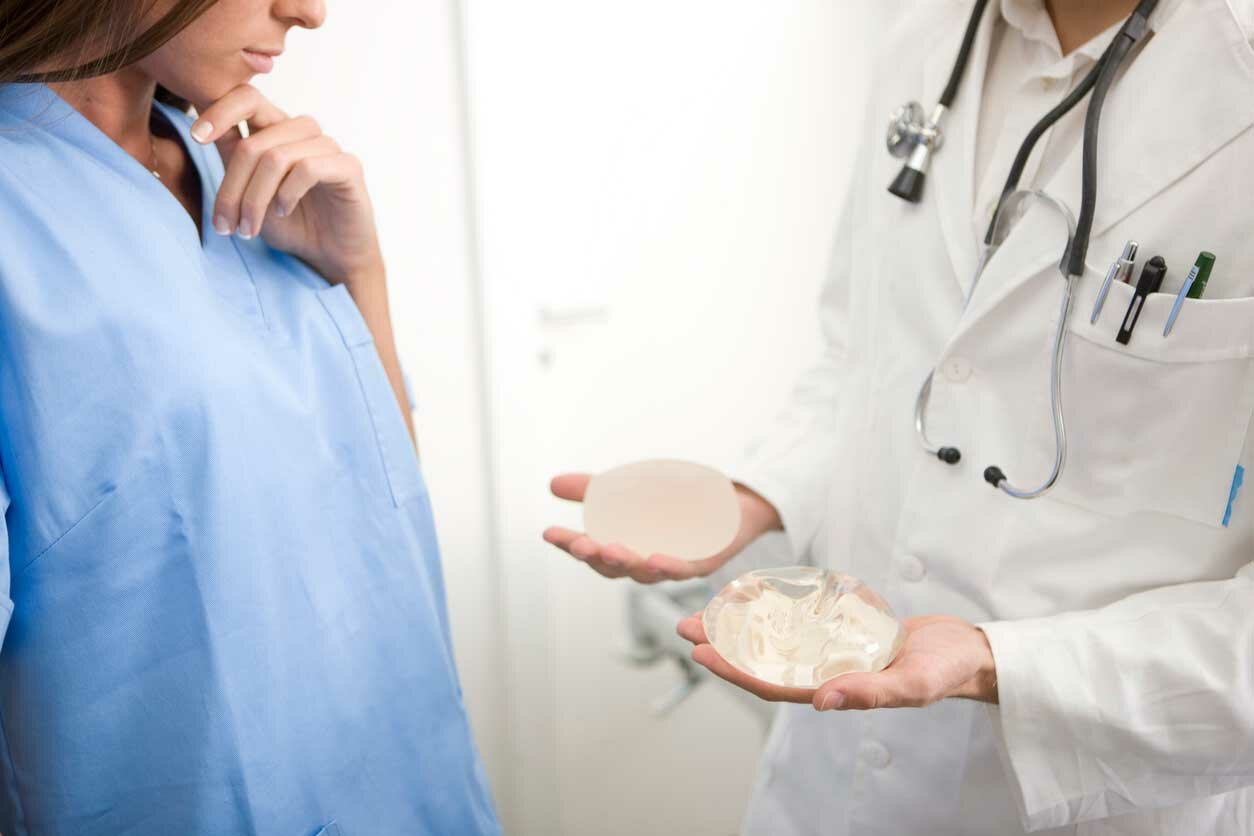 Are you considering breast implants?
Breast implants that are approved by the FDA come in two types; saline and silicone. The first question patients ask is, "Which one is best for breast augmentation?" The best answer is that each type offers its own advantages and possible drawbacks. When you meet with Miami's top-rated plastic surgeon, he will educate you on both options, and help you make a safe and informed decision as you move forward in your breast augmentation journey.
Comparing silicone and saline implants
You will be surprised to discover that both types of breast implants carry a lot of similarities. To begin with, both come in a variety of shapes and sizes to compliment your body's natural proportions. You're able to achieve beautiful results with either kind. Beyond this inherent similarity, choosing the right material depends on your personal preference and priorities. Let's consider how each may offer its own advantages.
Saline implants
This type of implant contains a liquid saline solution. Saline is isotonic, meaning that it is in the same concentration that naturally occurs in the human body. The saline in breast implants is produced with distilled water so that it is purified. In the rare case of a rupture, this saline is absorbed harmlessly by the body. Saline implants usually are firmer to the touch; thus, tending to feel less natural than silicone implants. The incision for saline implants is very small because they are inserted empty and filled once they are in place. Patients may have a choice of an incision around the areola, under the breast, or in the armpit. An added benefit is that your plastic surgeon can adjust the volume of the implants after they are in place, providing symmetry and a natural appearance. Saline implants are FDA approved for people age 18 and older, and they typically cost less than silicone.
Silicone implants
Silicone implants are filled with a soft, cohesive, silicone gel. The current generation of silicone implants are nicknamed "gummy bear" implants because they hold their shape even if they were cut in half. Just like gummy candy, the gel will not leak out of the implant, even in the rare event of a rupture. Because these implants are already full when placed in the body, they usually require a larger incision than saline implants. Again, patients can choose the location of their incision between around the areola, under the breast, or in the armpit. Most patients and their partners prefer silicone implants because they feel much more like natural breast tissue. Some women achieve the best results by supplementing silicone implants with fat grafting. Silicone implants have been approved by the FDA for people who are 22 years of age and older. Silicone implants generally cost more than saline implants.
The choice is yours
We hope that this comparison helps to clarify the benefits of each type of implant. The decision is really yours to make, depending upon your breast augmentation goals. A top-rated plastic surgeon will evaluate your body and listen to your priorities, to help you determine whether saline or silicone will give you the best possible results. If you would like to learn more about breast augmentation, visit our online patient photo gallery, and contact us for a consultation.
A Miami plastic surgeon for breast augmentation
Locally recognized as Dr. Z, Dr. Alexander Zuriarrain is a top-rated Miami plastic surgeon with a passion for perfectionism and attention to detail. Dr. Z understands the importance of an individualized approach. He adapts his procedures to every patient's unique body type. You are an important voice in the process as he combines your goals with his experience, giving his patients excellent results in a setting that is focused on patient safety. Well-known for his surgical talent, his patients enjoy his warm, caring personality and appreciate his professional bedside manner. Dr. Z sees patients not only in Miami, but across the United States and Latin America. Call today to request a Miami office or virtual consultation to learn more about breast implants and breast augmentation.